As the Islands' oldest hotel, the Island Inn shares a common goal with local environmental organizations of preserving the well-being of our estuaries, the health of our local ecology, and the quality of life for those that live, play, and stay on Sanibel Island.
Starting in the Summer of 2022, we've partnered with the Sanibel Captiva Conservation Foundation (SCCF) to collect and nurture Red Mangrove propagules that wash ashore on the Island Inn's beach, playing an import part in their Coastal Watch 'Adopt-a-Mangrove' program. This program was initiated to teach the value of mangroves on the islands through community involvement.
While out on leisurely strolls on the shores of the Island Inn, guests are invited to collect mangrove propagules (seeds) that have dropped from their parent trees, floated far distances away, and washed onto our beach. These individual propagules are then relocated into a special vase in each of the Inn's rooms, suites and cottages, where the Inn and its guests then nurture these potted propagules into seedlings. Once mature, the mangroves come out of the Inn's rooms and are delivered SCCF's nursery, where they are selected to be planted at local habitat restoration sites throughout Southwest Florida.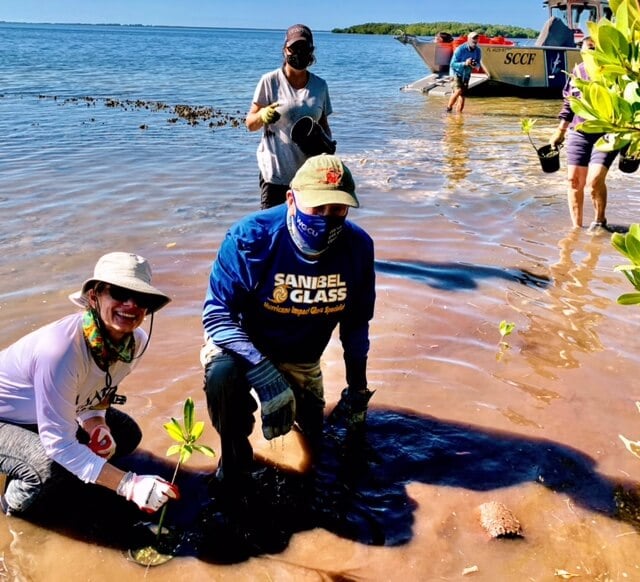 SCCF biologists & volunteers planting mature Red Mangrove propagules at Hemp Key in SWFL
These mangroves are a critical part to our ecosystem and therefore are a very important component in our barrier island community. "Mangroves protect our shorelines and homes from wind damage, erosion, and storm surge and mangrove-lined shorelines decrease wind speeds and reduce wave height," said Eric Milbrandt, Ph.D., SCCF Marine Lab Director and Scientific Advisor for Coastal Watch. "This provides additional protection for barrier islands facing sea-level rise."
The 'Adopt-a-Mangrove' program is part of SCCF's 'Back to Our Roots' initiative, which has an ultimate goal to restore mangroves in order to preserve our islands for generations to come. "Back to Our Roots is a way to connect people to nature by teaching them the importance of mangroves and allowing them to take part in a much broader conservation initiative," said Conservation Initiative Coordinator Kealy McNeal. "Through education, we can teach people to value, understand, and ultimately care for our environment."
"As a business whose prosperity is directly correlated to the health of our environment, we are proud to partner with organizations such as SCCF, who understand both the economic and environmental value of our ecosystem," said Island Inn's General Manager Chris Davison. "The Island Inn has made it a priority to collaborate with science-based organizations such as SCCF as part of a greater movement towards environmental and economic prosperity. We've found that our guests share in this feeling of social responsibility and find great value in supporting SCCF and its mission."