NOTICE: Some information on these pages are pre-Hurricane Ian and may not be fully up-to-date.
Sanibel Island is a great place to vacation with your family. From shelling on the beach, biking paths, and various guided and boat tours, there are activities and places to visit for families of any size and children of any age.
Seasonal Events; Check out our seasons and celebrations blogs posts to see what is going on while you are visiting the Island Inn. Some of the best events to bring your family to on Sanibel Island are the Annual Shell Festival, Ding Darling Days, the Fourth of July Celebration, Easter, the Island Hopper Songwriters Festival, the Luminary Festival, Christmas, the holiday season, and many more!
Swimming; The Island Inn has a heated and cooled pool that's perfect for families and young children who want an additional swimming option to the beautiful Gulf of Mexico. No matter if it's July 4th or December 25th, the pool is kept at a perfect 86 degrees thanks to geothermal technology! Don't forget your sun screen and floaties!
Land Tours; There are a variety of tours to take part in on Sanibel Island. From the land to the water you can see the best of Sanibel Island with the people who know it best. There are Land Tours to show you and your family historic buildings, museums, lighthouses and more. There is even a segway tour option to see the Island.
Boat Tours; There are Gulf and Bay Tours and Wildlife & Estuary Tours that offer a place to meet the Sanibel and Captiva's wildlife, in their own natural habitat! Take your family on a firsthand experience to engage with Sanibel Island wildlife such as dolphins, sea turtles, manatees, bald eagles and thousands of other wonderful plant and animal species that call Sanibel Island home. There are a variety of tours available to suit the individual needs and interests of your family.
Museums; Sanibel Island is as rich in history as it is in beaches. We have historical sites such as the Sanibel Historic Museum & Village and educational experiences such as the world-famous Bailey-Matthews National Shell Museum. Just over the bridge is the IMAG History and Science Center, Thomas Edison & Henry Ford Winter Estates, Sidney and Berne Davis Arts Center and the Florida Gulf Coast University Art Gallery. These museums offer a change of pace from the beach and water as well as a great escape from the occasional summer shower.
Shelling; Sanibel Island is known for incredible shelling brought by the island's unique shape and orientation. Different parts of the barrier island act like a scoop, facing toward the current from the south, west, and north. As the currents run up the slopes and sandbars off Sanibel's shoreline, they slow, turn, and drop their colorful shells. The Island Inn's 550 feet of pristine beach is coated in shells that are waiting to be picked up and marveled at. In fact, it is said that the Matthews Family chose the Island Inn's exact location all the way back in 1895 because of its advantages of being on Sanibel Island's most Southern Point, therefore "catching" the most and best shells available on Sanibel Island.
Bike Paths; Sanibel Island is designated as a bike friendly community with bike paths leading all through the island. Rental bikes are readily available at the Island Inn, so no need to bring your own along. Our bike rental services offer child trailers, child tandems and baby seats for your littlest little ones. Check our recommendations for bicycle safety and tips of how to safely use the bike paths.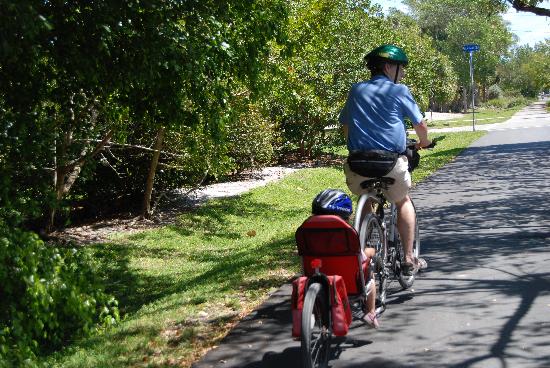 Guided beach tour; An exclusive amenity for Island Inn guests is our complimentary guided beach tour with a Bailey – Matthews National Shell Museum Marine Naturalist. This is a great way for kids to learn more about the shells they see all over the beach along with all the wildlife your family will experience while visiting Sanibel Island.
Watch Vloggers' Stay At Sanibel Island Inn: We recently had a family visit the Island Inn who documented their stay and all the activities they did on Sanibel Island. Check out all of there videos about their stay here.
As you can see, your family will have more than enough options when it comes to family-friendly activities on Sanibel Island. Now, all you have to do is find time in between the beach and the pool to take advantage of them!